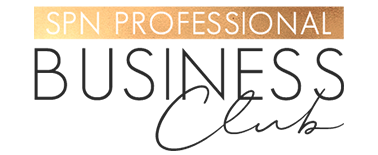 Today, our expert, Natalia Bogdan, will introduce you to the world of Facebook for business.
We will show you how to set up company accounts, link all profiles together, manage permissions on your website, where you will find an invoice for your ads, and how to get help, e.g. in the event of blocking your account.
Ready? Now we'll begin!

Brand selection and the development of the salon and stylist
Are you considering choosing one brand for your salon?
See how the choice of SPN Nails affects the development of the salon, but also expand your options as a nail stylist, allows you to fight as an experienced Educator. for the highest podium at the nail championships, strengthens the prestige of the salon you work in and guarantees the highest quality products.
Marta Dziurkowska - an experienced Educator and the owner of a prestigious nail salon from Częstochowa talks about how the choice of the brand influences the future career and development of the salon.

Safety in a beauty salon - disinfection and sterilization
A safe salon is primarily about using safe, sterile products and tools.
What are the 3 steps to sterilize  your tools safely? What is pre-disinfection? When are we talking about proper disinfection? And how to prepare tools for steam sterilization in an autoclave?

Professional salon profile on Instagram
In this video, our expert, Natalia Bogdan, will tell you how to professionally run a company channel on Instagram.
Pay attention to whether your channel is a private or corporate channel, remember to complete the information in BIO, use the hashtags. Use the potential of Instagram relations!

In this video we will talk about the role of the  Boss, what the expose of the Boss is and whether you are sure what you communicate to your employees is perceived by your team in the same way.
Karolina Ryszkiewicz shares her own experience. She will also talk about the experiment she conducted herself. Are you curious about its results?
Watch our latest webinar!


Professional profile of the salon on Facebook
In this webinar, Natalia Bogdan, an expert in social media marketing, will tell you how to configure your salon profile on Facebook.
What information in your salon description cannot be missing?
Does the background photo matter and what are the options for changing it? How to properly use automatic messages on our profile? What tools to use?
All the answers you can find in our video.

In this video our expert, Karolina Ryszkiewicz, will talk about the importance of the products we work on, the equipment we use, what is worth investing in, where it is worth saving, and where not to save, because it may have an impact on our health and the health of our clients.


Communication strategy in social media
In this video of  SPN Business Club, our next guest - Natalia Bogdan, an expert in the field of marketing and promotion in social media, will tell you about a few marketing tricks and learn about the tools that will help you take your business to a higher level!
How to create your own communication strategy in social media?
How will knowing your clients help you set the tone for your communication?
How often to post?
By what channels to reach? Who and what to talk about on your profile?
What marketing tools should you use to choose a job?


Sensory marketing in the salon
In this video, Karolina Ryszkiewicz, Beauty Business Expert, will talk about what sensory marketing is and how you can use it in your salon.
Use the power of music, offer your clients delicious coffee or tea, surround your salon with a beautiful scent of perfumed cosmetics from the SPN Nails Luxury Home SPA line.
Find your distinguishing feature and create the right atmosphere in your salon.
See how Karolina Ryszkiewicz did it!

5 mistakes in salon management
Karolina Ryszkiewicz, Beauty Business Expert, will talk about the five most common mistakes made by people who run their own salon in the first webinar at SPN Business Club.
Lack of communication with the client, too long response time, lack of basic information on the website, focusing only on the service, lack of procedures, or maybe incorrect financial management? Check which point applies to you! Look at your salon and your activities from a new perspective and see what is blocking your development!
Do you like our webinar? If you think that this project may also interest another stylist you know, the owner of a beauty salon - be sure to invite her to our project!
If you are interested in the support we offer you, remember to regularly check the section SPN Business Club, where we will  regularly post new, inspiring content.