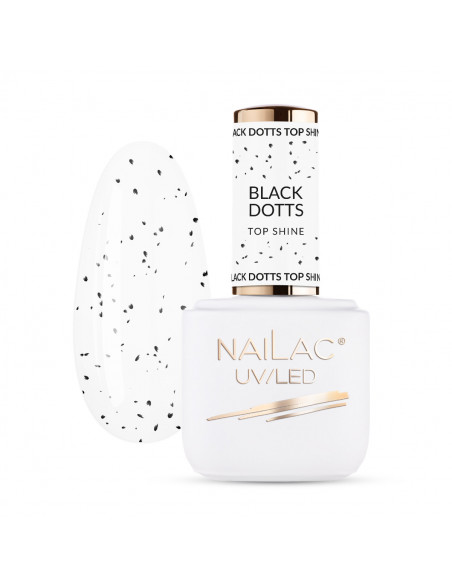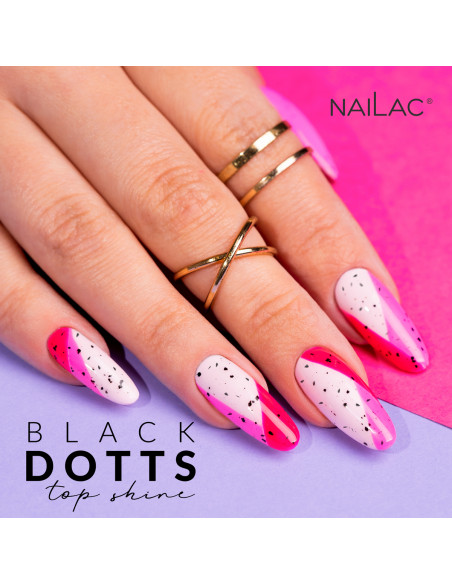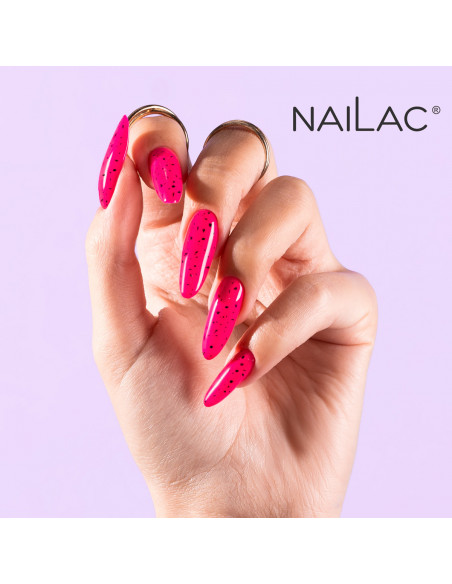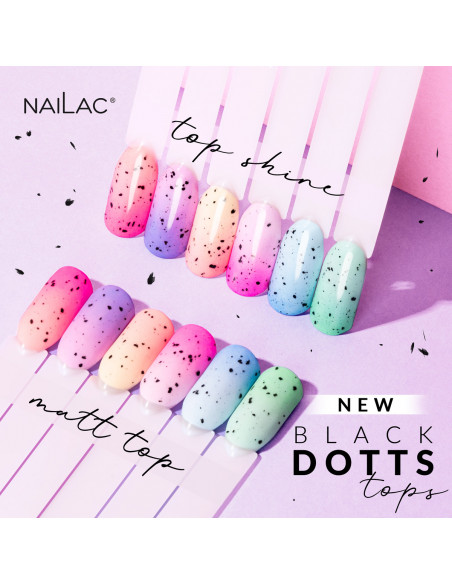 Black Dotts TOP Shine NaiLac 7ml
Available
PTU PL 23%
VAT included

Black Dotts TOP Shine is a guarantee of trendy and shiny nail design in few minutes! If you are looking for a really spectacular finish, with which even the simplest manicure will become trendy, reach for the transparent top with thousands of small, black, irregular flecks. When applied on a filed and dusted nail plate or any hybrid polish, it will cover your styling with an extremely shiny and non-yellowing coat. It's a WOW effect, which you will get in one stroke of a brush!
Black Dotts TOP Shine is:
    a transparent, non-yellowing product that gives the effect of black, crushed flecks on your nails
    shiny finish, which will surprise you
    time and product saving - just a thin layer of the top coat allows to achieve an extremely fashionable effect
    self-levelling product for quick application
    no scratches thanks to truly resistant formula
Directions:  Apply Black Dotts TOP Shine to filed and dusted nails or top coat of hybrid polish for a shiny finish.
•  It is easy to apply - it has self-levelling properties
• It does not wrinkle in the lamp, does not shrink during curing, oxidation and it does not change colour
• Does not contain formaldehyde
• Tested by individuals with AD
• Instant and easy to apply
• Perfect to be used on natural, gel, acrylic nails
• It dissolves in the #NailOFF fluid
 • Time of curing in the LED lamp: 30 seconds, and in UV - 60 seconds
• Recommended by the brand of Professionals - SPN Nails Professional
Remember! Never apply the oil immediately after removing your hand from the lamp - wait about 20 seconds. Thanks to this, your top will have even more shine!
Purpose

Permanent nail polish

Density

Medium thick

Effect

Top hybrid without washing

Application

1st layer

Curing time

NaiLac LED: 30 seconds, UV: 60 seconds

Removal

After tarnishing, it is dissolved in #NailOFF liquid

Ingredients

ACRYLATES COPOLYMER, POLYSILICONE-13, TRIMETHYLOLPROPANE TRIACRYLATE, ISOPROPYL ALCOHOL, BUTYL ACETATE