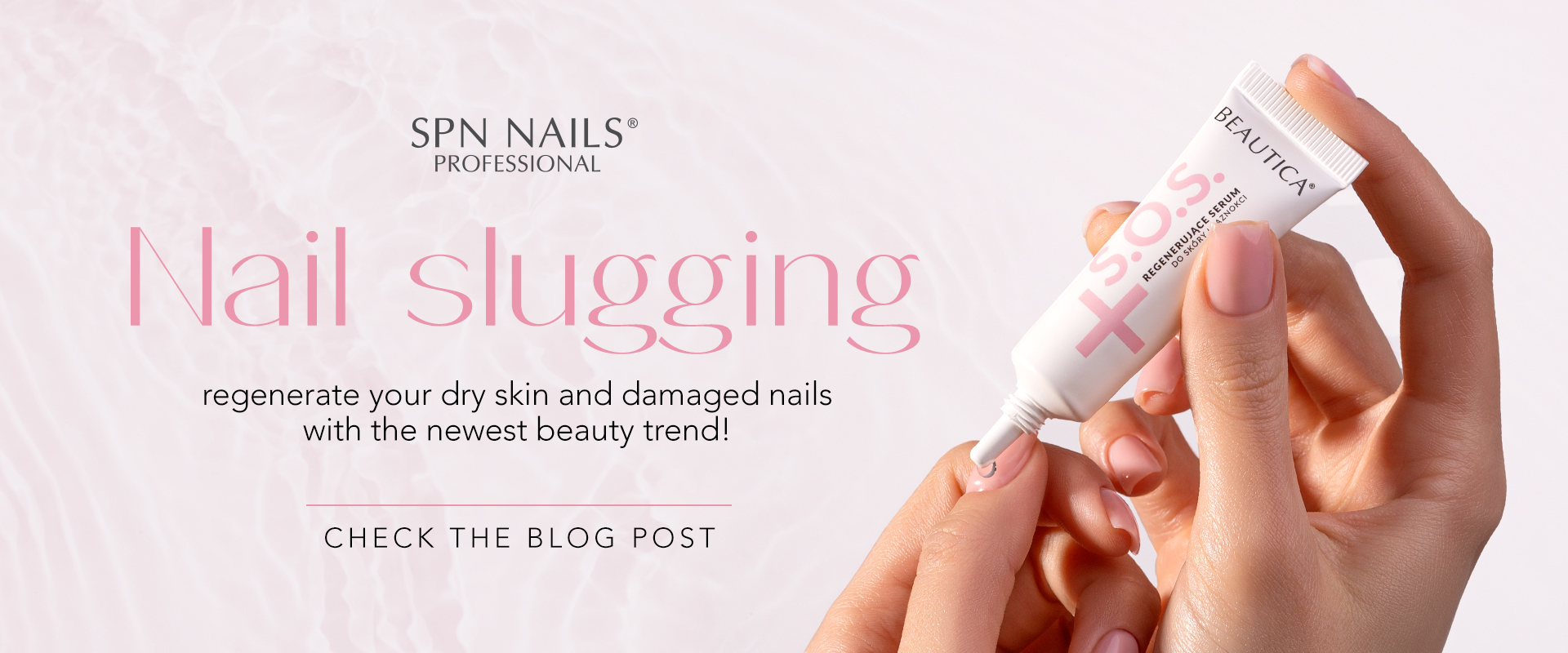 Do you want to say goodbye to dry skin once and for all and regenerate damaged nails? Do you need really strong hydration and nail plate strengthening?
Discover a simple treatment that you can easily perform at home, between visits to your Stylist!
Nail slugging, because that's what we're talking about, will make your skin finally gain elasticity and remain soft and nourished!
What is nail slugging?
This is the trend in hand and nail care that conquers TikTok! After this treatment, nails and cuticles are super moisturized and smooth as never before! You can do it yourself at home, between visits to your nail salon and it will take you less than 2 minutes! Repeated daily, it will thoroughly regenerate and strengthen the damaged, brittle plate.
What is this home manicure ritual all about?
It'a about using highly moisturizing, rich in nutrients, regenerating products for cuticles and nails and "closing" the care with a product that will act like a "dressing" for your hands. Choose the one with the addition of occlusive glycerin!
Such a treatment will intensify the penetration of nutrients into the skin and reliably protect it against dehydration.
How to perform nail slugging and rebuild damaged nails and get rid of unsightly "burrs" and dry skin?
See the next stages of this procedure!
Before the procedure, perform a gentle peeling of your hands, focusing especially on the area around the nails.
Choose a peeling and exfoliating gel from the S.O.S line with the addition of d-panthenol, glycolic acid, papain and natural silica, or a perfumed peeling from the Home SPA line in your favorite scent.
The second step is to use theS.O.S. Regenerating Serum for Skin and Nails, with the content of e.g. collagen and elastin, which have strengthening properties and improve the elasticity of the skin and nails.
Regular use of the serum makes nails stronger and more resistant to damage.
The serum, thanks to the content of tea tree oil, also has additional antibacterial and anti-inflammatory properties.
The third step is the application of nourishing oil.
Massage into the skin and nails with one of the nourishing SPN Nails body oils with the addition of marigold and chamomile flower extracts, emollients and cold-pressed jojoba, almond and sunflower oils that regenerate and moisturize dry skin for a long time.
The double power of the oil and the serum will make your skin more hydrated and elastic, and the nail plate thoroughly regenerated!
The fourth step is "closing" the care with Intensely moisturizing S.O.S. ointment, with the addition of occlusive glycerin.
It will not allow water to escape from the epidermis and will additionally moisturize and soothe the skin, thanks to the content of allantoin and bisabolol.
Ready for a real regeneration?
Comments (0)
No comments at this moment