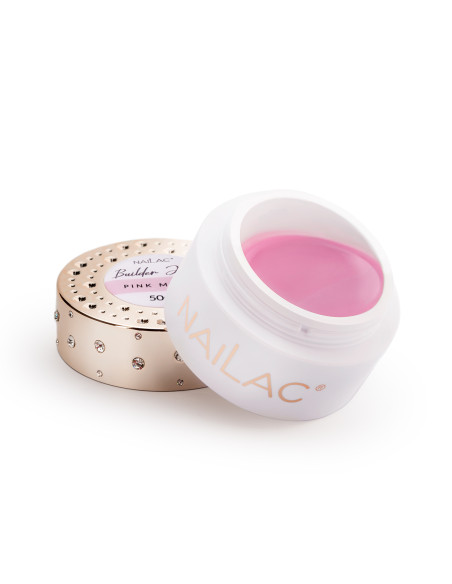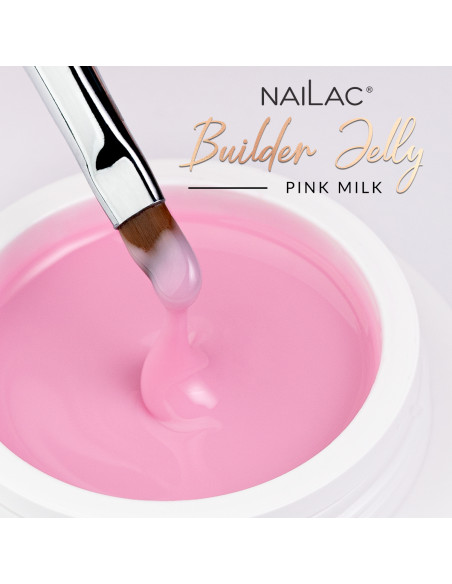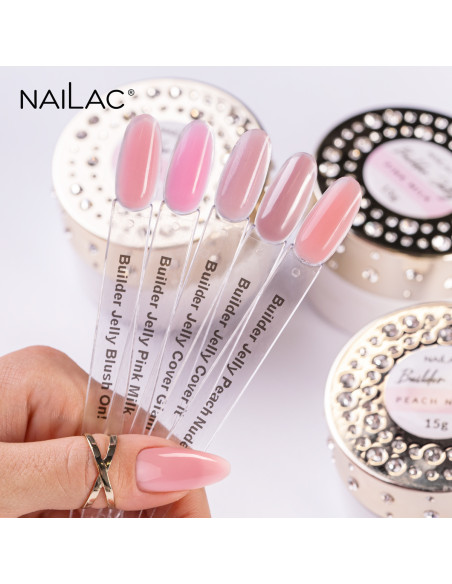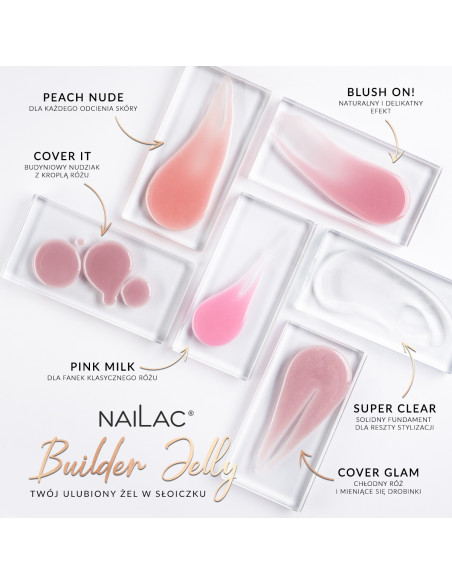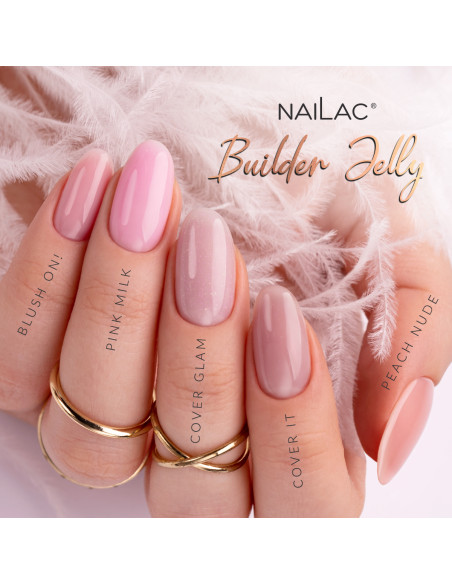 Builder Jelly Pink Milk NaiLac 50g
Available
PTU PL 23%
VAT included

Builder Jelly Pink Milk is a cover builder gel in a natural shade of pink that will be loved by fans of the classic, soft #mani. As well as the beautiful colour, it has all the features of a most desirable product for extending, overbuilding, levelling and curing the natural nail plate. Pink gel, which gives full control during stylization, will significantly speed up the work time, as well as create solid and strong nails resistant to any damage. Builder Jelly Pink Milk gel will quickly become your #musthave - you will love it for its phenomenal adhesion to the plate, ease of preparation and thixotropy, thanks to which it does not run off on the cuticles and self-levelling.
Do you remember our bestselling JellyMe bottle gels? Thousands of stylists have trusted and loved them for their milky, semi-transparent shades, ease of application and self-levelling formula. Now it's time for the continuation of this series, but in a slightly different version that you are sure to love!
Here they are! The newest Builder Jelly gels in beautiful jars! We guarantee that they will quickly become your #musthave. 
What will you love them for? Builder Jelly gels in jars are:
the first builder gels in the NaiLac portfolio with a very strong surface tension - the gels "stand still" and listen perfectly to the brush during application, which speeds up working time considerably,
gels, with which you can extend, build, level and harden both short and long nails - they can cope with every imperfection of the plate, and the extended nails will be strong and very durable,
phenomenal adhesion to the plate and resistance to micro damages,
Thixotropy, thanks to which gels do not run down on cuticles and they level themselves, giving you full control during styling,
beautiful range of colours - all shades are pudding-milk with 80% translucency, thanks to which they give the nails an ultra-natural and delicate shade,
Easy to apply with a file and cutter,
reduced burning sensation in the lamp and no intense, irritating smell,
no clogging and guaranteed colour retention for the duration of the nail design - you can forget about yellow tones.
How to use it?
We recommend applying over Gummy Base or VitaMilk Base and finishing with No Wipe top #007.
Harden for 60 seconds in a 48W DUAL LED lamp.
Purpose

Built-in gel

Density

Dense

Effect

Opaque natural pink

Curing time

Removal

Necessity of filing

Ingredients

ACRYLATES COPOLYMER, ISOPROPYL TITANIUM TRIISOSTEARATE, CELLULOSE ACETATE BUTYRATE, BUTYL ACETATE, DIMETHICONE, MICROCRYSTALLINE WAX, +/- CI 77491, CI 77891, CI 77492.